Order The LORD Will Provide: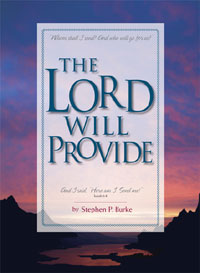 In a step of faith, Steve has felt the Lord calling him to send a copy of "The LORD will Provide" to anyone who requests a copy. Donations are still accepted, but to request your copy of the book please e-mail Steve at
stephen@theLORDwillprovide.org
.
The LORD Will Provide is a nonprofit 501 (c)(3) corporation. Your donation is tax deductible.
If you would like to make a donation to the ministry, you can donate online via PayPal:
Or by sending a check to or money order to the address below:
The LORD Will Provide
P.O. Box 1926 Temple, TX 76503
Please make checks payable to: The LORD Will Provide Ministries.